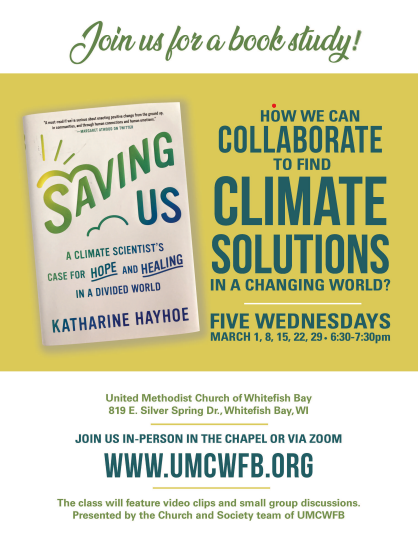 Every Wednesday, from 03/01/2023 to 03/29/2023
,
6:30 PM - 7:30 PM
128 - Chapel
Contact: Beth StaffordBeth Stafford
The Saving Us Book Study, hosted by the Church and Society Team, one of the upcoming WNL offerings during the Lenten Season, will be offered in HYBRID FORMAT.
We hope as many as possible will join us IN PERSON on Wednesday nights in the CHAPEL at UMCWFB (no registration needed).
Alternatively, consider joining us VIRTUALLY by Registering HERE in Advance of any of the sessions for ZOOM participation.
The sessions are fairly well contained and will be beneficial even if you do not have time to read the book or attend all the sessions.